IntensiFire: Clean-Burning Technology to Improve Your Stove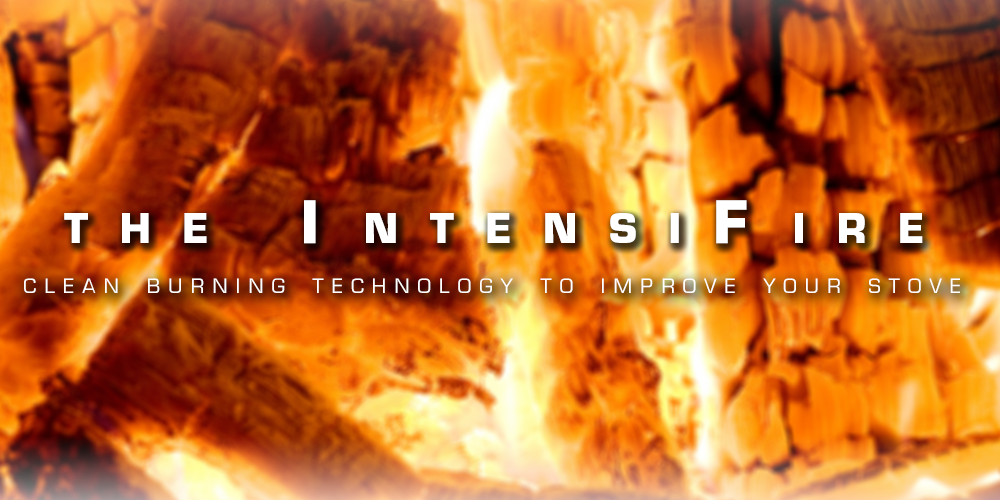 J
ason Stewart knows a thing or two about wood heat. Twenty years ago, the New Zealand native found himself in a rented home, trying to keep warm with an old wood stove that produced more smoke than heat. It's a relatable situation for many in North America, where those who rely on wood heat live mostly in rural areas and often rent rather than own a home. Wood stoves are common in Canada and the northern areas of the U.S., but are often poorly maintained or simply old and outdated.
Jason wasn't about to let his landlord keep him cold, however. With a background in engineering, over the course of the next year and a half Jason set about building his own wood stove to replace the one in his house, and it was this path of self-reliance that led him to thinking about more practical solutions to fixing old, poorly maintained stoves. Five years ago he landed on the idea of creating a combustion system that would intensify the combustion process, which not only produced more heat from less wood, but could also burn wet wood with no smoke! Jason also lowered his carbon monoxide output to next to nothing, a welcome side effect of the increased heat.
Jason saw the potential of this device immediately, developed a business around it, and the IntensiFire was born. But what is it, and how does it work?
The IntensiFire basically acts as an internal flue extension, enabling stove users to burn their downdraft. This adds a feature not common in older stoves, secondary combustion, which brings in a significant amount of additional heat as the gases from burning wood are ignited before they leave the firebox. The benefits of this are two-fold: By adding secondary combustion to a stove that previously had none, the heat of the burn increases, and burning a stove hot is extremely important when it comes to wood fires. It prevents the accumulation of creosote in the chimney, a highly flammable substance left over when the heated by-products of wood smoke hit a cool chimney. When creosote combusts it causes chimney fires, which in turn can cause warping and other damage to areas around the fireplace. At worst, a chimney fire can escape the chimney and turn into a house fire.
There's also a significant financial benefit to secondary combustion, as a firebox that gets hotter faster will more effectively burn damp wood (the IntensiFire can handle wood with up to 60% moisture content, burning it clean with zero smoke), so any wood that's been somewhat exposed to the elements isn't wasted with this system installed. Igniting these gases in the firebox also means that they are not being expelled into the atmosphere, which is particularly important when it comes to carbon monoxide. Reducing your carbon footprint is something that everyone in your neighborhood will be happy about, particularly if your area is prone to temperature inversions.
It's added benefits like this that are close to Jason's heart. He has a long, active history in the environmental community: In 2010, he was piloting the Ady Gil during anti-whaling operations in the Southern Ocean when the Japanese whaling vessel Shōnan Maru 2 rammed the ship unprovoked, causing catastrophic damage and forcing the crew to abandon ship. The entire incident was captured for the Discovery series "Whale Wars", and Jason remains friends with the the Gil's captain and noted activist Pete Bethune. He was also an engineer on Earthrace, a bio-diesel boat that circumnavigated the globe, demonstrating the feasibility of the fuel and promote environmental awareness.
That awareness of the environment is exactly what makes Jason's work in the heating community important. Does the IntensiFire actually make good on it's claims, though? According to the press Jason has received over the last few years, it certainly seems to.
In November 2013, the Wood Stove Decathlon took place in Washington D.C, organized by the Alliance for Green Heat and sponsored by the United States Forest Service, Maryland Wood Energy Coalition, New York State Energy Research and Development Authority, among many others. The purpose of the contest was to challenge teams of designers to create the next generation of wood stoves with a focus on affordability, efficiency, and low emissions. Among the fourteen finalists? Jason Stewart with the IntensiFire. Jason ultimately took home second place for affordability and third in innovation, attracting attention from major media outlets such as Popular Mechanics, National Geographic, and Examiner. Perhaps most importantly though, was a letter Jason later received from Brookhaven National Laboratory, one of the United States' official research facilities operated by the Department of Energy.
"In our testing your system was found to have the lowest CO emissions I have seen from a wood stove, approaching zero at times during the burn cycle," wrote Dr. Thomas Butcher, head of the Energy Conversion Group at Brookhaven. "I would like to encourage you to continue your work with this technology."
Throughout the IntensiFire's history, Jason has always gone above and beyond to help his customers. He truly believes in his work, and would not only personally walk every customer through their installation process, but also repair a stove before doing so. Unfortunately, continuing that service on a massive scale in North America has never been feasible in terms of logistics or liability. Nevertheless, his spirit and ingenuity attracted the attention of Obadiah's Woodstoves & Alternative Energy.
Modifying an appliance that was engineered to burn a certain temperature presents challenges when the combustion temperature are increased dramatically by a system like the IntensiFire, so in the fall of 2015, Jason spent several months hashing out ideas with Obadiah's on how to bring his concept of clean combustion to more wood stove users. Together, they produced four test units based on existing wood heaters, selected for Obadiah's long-term business relations with the manufacturers (spreading out development costs and eliminating UL listing concerns). The chosen units were a converted Woodmaster LT90 Outdoor Wood Boiler, a Kitchen Queen Cookstove, a BIS Panorama zero clearance fireplace and a builder box Heatilator style zero clearance fireplace. Below are some pictures of what Jason and Obadiah's came up with for the LT90:
The results?
Outdoor wood boilers are currently in the crosshairs of the EPA given how dirty they burn, so what better place to start? Jason and Obadiah's have more testing to do on the LT90 before development can begin, but initial results show that this could easily be the best way to clean up thousands of outdoor wood boilers currently in use.
Meanwhile, the Heatilator and Kitchen Queen produced results that forced Obadiah's to reconsider the one-size-fits-all approach that Jason has used in the past. The Heatilator's fireplace became so hot during usage that parts of it glowed cherry red, and eventually the doors blew up! On top of that, the Kitchen Queen cookstove's oven became super-heated and impossible to control, even after dozens of design changes. For now, both stoves have been put on the backburner.
The Panorama fireplace, however, proved promising with an IntensiFire installation, and it will be refined further.
Ultimately, all of these results demonstrated to Obadiah's that the best way to bring the IntensiFire to North America is to manufacture kits specifically designed for the stove it is going into. Selling one-size-fits-all kits for the DIY crowd isn't something Obadiah's will ever been able to do, but producing individual kits for different stoves is an idea that everyone agrees is worth pursuing. The Panorama test unit, for example, will eventually be sold under Obadiah's line of hearth products as a stand-alone unit that is UL-tested and EPA-certified.
Jason would still like to one day bring his retrofit device for stoves to the States, but for now, he and Obadiah's will be working together with manufacturers to clean up the North American stove market. They have started by following the EPA's lead, focusing on creating retrofits for the biggest polluters in the most need of clean-up: Outdoor wood boilers. The two are also working together on a line of stoves and boilers for Obadiah's Woodstoves, which incorporates the IntensiFire into the actual design of the stove to maintain a functional amount of space in the firebox. All this will take time and money to develop, test, manufacture and bring to market, so please stay tuned to the Cookstove Community and Obadiah's Woodstoves for news on developments as they occur.
Jason's dedication to the environment and his ingenuity, combined with Obadiah's understanding of the market and ability to tap into it, make for a team that is set to finally do what's needed to clean up stoves in North America.