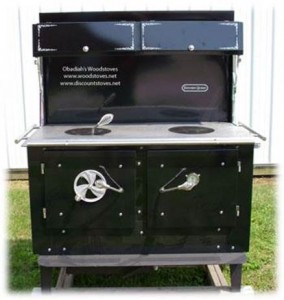 As for the history of the Kitchen Queen stove: In the early 90's Freeman Troyer, his brother Orlie, and their parents all lived on the West Kootenai in Montana (his Dad, Amzie was Bishop there, but has since passed away).
While living in Montana, Freeman built a few prototype stoves, which were somewhat plainer than the current KQ, but a couple of which are still around. Around 1996 Freeman, his family, and parents moved to Michigan where he began to get serious about the stove business, and became very successful with what we now know as the Kitchen Queen Stove Company. By the way, Freeman Troyer sold the Kitchen Queen Co. to another Amish fella some years ago.
In 1998, Dennis and Viola Bontrager started producing wood cookstoves as well. The Montana Energy Queen (MEQ) was very similar in design to the Kitchen Queens (KQ). The firebox and oven doors opened from the outside and were hinged in the center post between the firebox and oven, so they open the opposite way as the Queen. The Combustion Air Intake was also below the firebox door on the Energy Queen, unlike the Kitchen Queen, which has an air cooled firebox door which is cooler to cook in front of. Dennis did refine his cookstoves and built many to supply the Y2K demand at the time, which launched Amish cookstoves into the business it is now. There are many Montana Energy Queens all over North America, as they were also sold online by Obadiah's Woodstoves, and many hands were involved in producing the MEQ, which were built at the Amish Community in Libby, Montana. Dennis built some of the stoves and sub-contracted some of the fabrication out to Montana Machine and the Mast Family which was operating a fabrication shop at the time. Dennis and Viola left the Amish when they moved to the West Kootenai. They sold the business to Robert Mast who produced the stove line for a few more years. Due to a tragic loss in their family,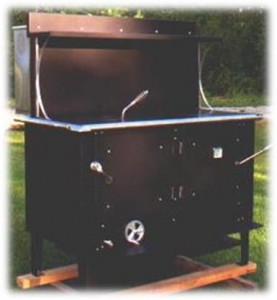 they moved away from fabrication as a business and focused more on their construction and log home building operations. Ownership of the Montana Energy Queen Company now belongs to Obadiah's Woodstoves.
In 1999, my family and I (Obadiah's) moved to Montana from Michigan and lived in the Libby Amish Community for a year before moving to our new homestead in the Yaak. We have had many Anabaptist friends over the years in Michigan as I admired and studied certain aspects of their lifestyles. When we moved to Libby and lived amongst the Amish we learned from each other during our stay there, trading knowledge and services. Although we are not Amish, Mennonite, or Anabaptist, we have had strong fellowship with many of them. We are not Plain Folks, we did not dress like them or use buggy's, we drove them around and used our skills to design Hydro Electrical Systems and fix their diesel generators, cranes, and other equipment needed for day to day operations of the farming community and log home operations in Libby. We believe that technology, when used properly, can enhance life and reduce effort; we use engineering to make life better. We live as sustainably as possible and we feel that simple is better in most cases. We also believe in shinning the LIGHT by serving others. Our business, Obadiah's Woodstove's, brings warmth to their homes and hearths. With Wildfire Fighters, we use our engineering abilities to mitigate disasters such as wildfires, bringing peace of mind. We work with various government agencies under agreement to provide these services all over the country.
If you have a Montana Energy Queen and need parts or service for your stove, please call us, we will be happy to help you. Even though the MEQ cookstove is currently out of production, we still fabricate, repair, and can build them. As always: If Obadiah's sold it, we stand behind it and count on it, even if we have to make the part ourselves. That is why our motto is "Extinguishing Mediocrity".
– Montana Mountainman.