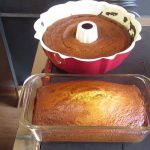 Sarah Chain has been whipping up her own snacks, meals, and desserts with the various cookstoves offered by Obadiah's Woodstoves, and the results are delicious! In the video below, Sarah uses the Concept 2 Air Mini Wood Cookstove (available here) to bake two tasty mango cakes. Check it out for some cookstove-specific pointers, and make […]
Read more [...]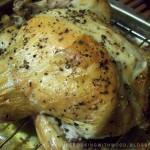 Here is a roast chicken that's nicely browned, and also very tender. It tastes delicious, and is pretty easy to prepare. And to top it off, it is not finicky about temperature, which makes it an excellent choice for novice woodburners like us.
Read more [...]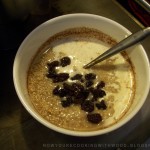 My friend introduced me to this breakfast treat in Tennessee some years ago, and I'm glad she did. It gets a nice chewy texture from both oats and cherries, and it tastes delicious.
Read more [...]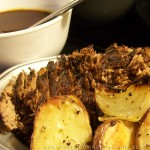 This is my mom's version of roast beef. Technically, it's a pot roast, because it's cooked with a lid on it and allowed to steam in its own juices. But it doesn't come out like a pot roast, i.e., wet and slow-cooked till falling apart. It's more roast-y, with a roast meat texture and consistency. And it's very, very tasty.
Read more [...]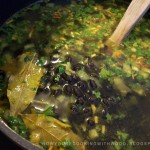 Maybe the seasoning approach from the first pot of beans would be a better match for a soup or a sauce that's going to spend less time on the stove. But if you're looking for bean heaven on earth, you might just have to go through a little hell to get there.
Read more [...]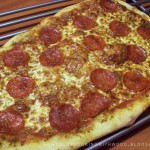 This is an interesting recipe for pizza on a cookstove. The theory is, the long, slow fermentation time develops subtle flavors in the dough… "Less yeast, more time". It's the antithesis of rapid rise yeast. Pesto, tomato sauce, pepper jack, pepperoni, and parmesan on a bubbling crust.
Read more [...]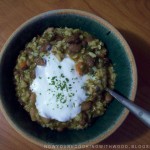 A pot of beans, simmered all day on the slow side of the stove. The next day we reheated them with some leftover brown rice, and stirred in a dollop (or two) of yogurt to each bowl. Mmmm. Way better. Remember not to forget the yogurt. The "Recipe" Beans can be made any old way. […]
Read more [...]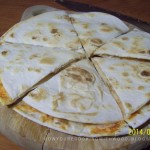 This is the first time I've made quesadillas since we installed the Kitchen Queen, having spent the interim trying to push her limits (haven't yet). We used to have them at least once a week… before the Queen stole my heart, and hijacked my imagination. The big steel cooktop is a natural for these – […]
Read more [...]
Cooking cookies on a cookstove! We can't think of anything more perfect. This recipe makes for some great soft-style cookies and was recommended to us by a friend.
Read more [...]
Have your own delicious cookstove recipe you'd like to share? We'd love to post it, so please send it on over to us at admin@cookstoves.net