In an effort to launch our new Cookstove Community we are going to start with a "Wood Cookstove Cook-Off Kick-Off".
We will be having three competitions in one with separate prizes that can be won. The contest runs through the rest of this year and ends Jan 1st 2014. Prizes will be awarded by Feb 1st 2014. First prize in each division is $100. Second and third place will be a matter of choice until all the prizes have been awarded.
If other companies wish to contribute prizes other than Obadiah's Woodstoves, we will accept them and award them as part of our promotion providing the contributor with some free PR in return.
The Cookstove Community will judge the following based on originality, creativeness, and functionality:
1. The best looking cookstove installation.
2. The best looking feast prepared on a wood cookstove.
3. Children's best picture of their family's cookstove or a poem or song written about their stove.

To enter: Sign up on the Cookstove Community Forum and pick out a user name that fits you and your beloved stove. We will have a topic on the forum called "Cookstove Cook-off Competition," there you can post a photo of your feast or cookstove installation, and tell us what makes it worthy of a vote for the best.
We welcome pictures that are clear 700 x 700 pixels and less than one megabyte. If you have technical issues uploading your pictures to the forum you can e-mail them to us here , and we will fix them and get them online for you. Videos are also welcome, just upload them to YouTube and post the link on the competition thread.
New to forums? Not sure what to call yourself? Here are some examples for usernames: Let's say your name is Kerry and you have a Kitchen Queen, you could chose "Kerry Kitchen Queen", if you're a guy it could be "Kerry Kitchen King." Be creative and original, the idea is to have some fun. Another example is "Bonnie Bun Baker", or "Bakers Oven Betsy", the more original the name the better chance you have to win, heck we may just give out a prize for the best name if we get some creative ones.


About The Best Looking Cookstove Installation
When submitting your photo, please tell us a bit about the stove: Why you chose to install your stove the way you did, if there's history behind the stove, how long it's been in the family, how did you find it, did you restore it, etc. Here are some pictures of various installs that we found interesting. These are all Kitchen Queen Cookstoves, as they are what we sell the most of, so we have the most pictures of them: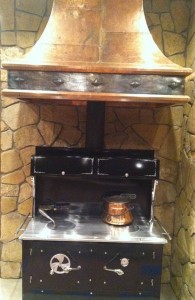 One customer installed a copper hood over their cookstove to suck out the heat in the summer when they cook on it.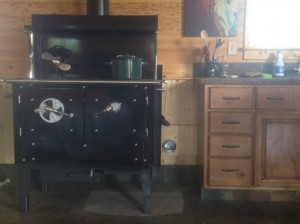 Another made leg extenders to raise the stove to be level with the counter.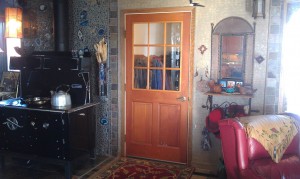 Another customer did a beautiful job of creating a masterpiece out of some rock and tiles she had, creating a work of art behind her stove.


About The Best Looking Feast
If your gift is cooking and baking and not so much the installation of your stove, you can still win! Send us a picture of your Thanksgiving or Christmas feast that you have prepared for yourself, your family, your friends, or whomever, and tell us a bit about it.
For example "Bun Baker Bonnie" may submit a picture of her family sitting down to a feast of roast Goose that her sons when out and harvested with a special homemade cheese cake that grandma Pioneer Princess Pam has made that is a generational favorite. Or Olivia Oval could show a video of her family digging in to a Thanksgiving Feast on "Eddie Bull" that was part of their children's 4H entry that won a blue ribbon.
Perhaps Sally Sweetheart and Wilma Waterford put on a joint Christmas meal at the local community center for the elderly and folks with no place to go, videotaping the affair with the Christmas Carols that we sung by the local children.


About The Children's Contest
For the Children we will have a special contest for the best picture of their family's cookstove or a poem or song written about their stove.


Prizes
Best Looking Cookstove:
First place: $100.
Second place: First choice of prizes.
Third place: Second choice of prizes.
Best Looking Feast:
First place: $100.
Second place: First choice of prizes.
Third place: Second choice of prizes.
Prizes to choose from:
If more prizes are donated, they will be added to the list.