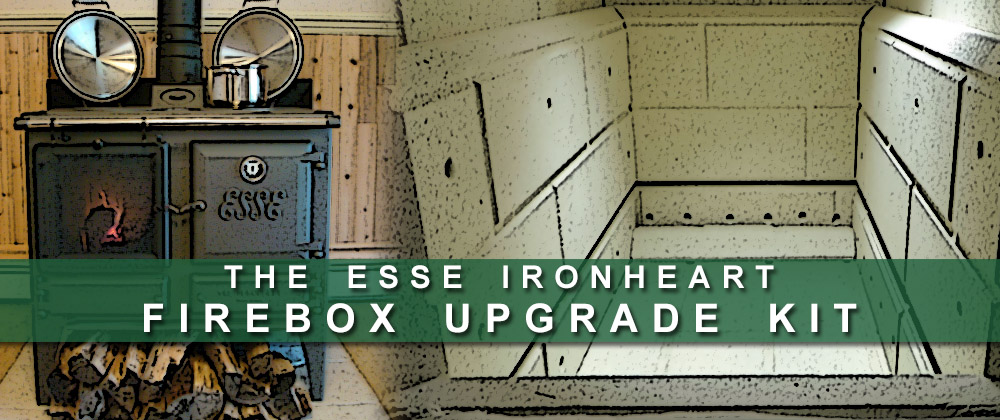 We've always been big fans of the Esse Ironheart wood cookstove. After all, these are some of the longest lasting stoves on the market for a reason: The Ironheart is built like a tank and can stand up to decades of use with no problem. It cooks great, it has a classic yet sleek look, and burns clean. If there's a single downside to the Esse Ironheart, it's a firebox that runs on the small side due to the baffle orientation and the stove's ability to heat using both wood and coal. However, we've come up with a way to help folks who are burning only wood fuel get far more out of their Ironheart than they ever have before.
Introducing Obadiah's Esse Ironheart Firebox Upgrade Kit.
Obadiah's has designed a firebox upgrade that drastically increases the efficiency of the Esse Ironheart's firebox without risk of over-firing it. By eliminating the upper steel baffle, the upper panel of the firebox is now flat, increasing the interior volume by more than three times the original. Not only that, but we've extended the bottom of the firebox by removing the ash pan and steel grate meant for coal burning, replacing them with more refractory designed with specially placed holes to bring combustion air completely around the base of the fire. This means more thermomass inside the firebox to hold in heat and raise combustion temperatures, increasing the heating capabilities of the stove by allowing for more complete burns.
However, it's not enough to offer only a firebox upgrade in size. Obadiah's has also taken into account that more heat means more demand for thermal protection, which is why we've added Micore 300 for insulation, effectively cutting down the heat going to the top of the steel firebox and keeping your stove safe to operate.
The firebox upgrade kit is simple to install, and Obadiah's has put together a series of helpful videos for you to make sure everything goes smoothly. Check them out below!
The Esse Ironheart Firebox Upgrade Kit can be purchased exclusively from Obadiah's. Email our sales team (sales@woodstoves.net) or give us a call today at 1-800-968-8604 (9 am – 5 pm MST, Mon. – Fri.).