Greetings from Yaak, Montana, home of the Montana mountain men and women who call this place home. My name is "Woodstove Woody". I welcome you to our "Cookstove Community", a place where wood cookstoves are just part of everyday life. We are in NW Montana about 60 miles or so as the crow flies from Glacier National Park on the Canadian border. Our online Cookstove Community is made up of folks from all over the world, but the flavor of it begins here in "The Yaak". Let me introduce you to the gang and why we created this site. No matter where you live, we want you to feel like you're here in Montana next to the wood-fired cookstove sharing a cup of Joe with a character like Wrangler Jane, even though she is from Indiana. This is Cyber Space after all and reality can be whatever you make it to be. We live in an age where the Internet has made things possible that were unheard of just 10 yrs. ago. So pull up a chair, make yourself comfortable and familiarize yourself.
We're a rugged, diverse bunch of folk who truly understand the meaning of Life, Liberty and the Pursuit of Happiness. For us, happiness is not having someone tell us how to live our lives or sticking their nose in our business. We like to be left alone, we love to hunt and fish, we love the outdoors, and some of us can hit what we aim at ½ mile away. Good chance we're packing, so were not afraid of much. We know how to survive without a strip mall down the street.
We have wild animals around here of the 4 legged varieties such as Grizzlies, Black Bear, Wolverines, Badgers, Coyotes, Mountain Lions, Deer, Moose and Lynx.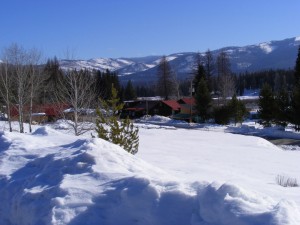 We used to have lots of wild game in these parts until the nut jobs decided that releasing hybrid Northern Timber Wolves that weigh in excess of 350lbs was a good idea. Those wolves have killed off most of the natural Grey Wolves that have inhabited this area for a long time. The grey wolf stands little chance against a wolf twice their size. These Hybrid wolves are killing machines and have decimated our local populations of Elk, Whitetail and Muley Deer (amongst others), so we are armed out of necessity and were not real happy about it either. But that's another bunny trail we won't go down.
Most of came here from somewhere else looking to leave behind the hustle and the bustle. Few can handle the winters so they don't stay long; only the hardy remain. We can see several feet of snow in one dump and temps at -50 below. Our stoves are as important to us as are our guns and the cabins we call home. We have learned how to survive out of choice, few live here out of necessity. Are we survivalist, anti-government, anti-establishment? Nah, just a little peculiar. Ya gotta be to wanna live here – there is no other way to describe it.
Amonst us regular folk are retired heart surgeons, vets, professionals and ex-movie stars and current movie stars like retired rodeo circuit rider, Tom Oar who has made a name for himself on the History Channels "The Mountain Men". Then there are the business folks like myself and others who eke out a livin' in these parts however we can. Some own bars like the world famous "Dirty Shame Saloon" that was frequented by the likes of the "Rat Pack" when one of the stars from "Gunsmoke" lived up here. Some are professionals and can work from anywhere; I'm one of those types who can thrive no matter where he is, I just have a gift for business. We started a company called "Obadiah's Woodstoves" back in 1998 when I first heard that voice telling me, "Head West Youngman".
Our business is a thriving concern, even though we operate remotely from our homestead on the North End of the valley. We employ the local folks here and we have assembled quite a team that work hard to provide the best service you'll find anywhere. Our crew is like family, they care about what they do, something rare in today's world. We may be remote, but we have a worldwide presence and sell stoves all over the world. I spoke with a fella in Taiwan today who is buying a fancy gas fireplace for his high class restaurant. We ship stoves as far away as New Zealand and are constantly amazed by the scope of our influence because of the gift of the internet. My business allows me to do commercial biomass boiler deals with a partner group in Pennsylvania and sell a cookstove to a Bush Pilot in Northern Canada, which brings me to why I finance this website.
Woodburning Cookstoves have become sort of a passion for me; they represent something that is not found in your local hearth store. They are a very small niche market in a small market of folks who burn wood to heat their homes. Although Obadiah's sells high end fireplaces to folks who have penthouse apartments in NY or LA, or Commercial Biomass Boilers to business owners all over the world, there is usually a strong connection with folks who call us for wood burning cook stoves. They seem to be cut from the same cloth as if they lived nearby here in "The Yaak". They are the independent sort that are either on a quest to break free of the rat race like we did 14 yrs. ago, or they are on their way to getting more self-sufficient. I can relate to that, so we usually make a connection during the sale and a friendship or a bond develops, like a kindred spirit thing. Strange I know, but the same sort of thing happens up here, although we are all the fiercely independent types, we are all very tight as a community. When someone needs help, the folks up here will rally to the cause in a way that is very rare these days in the cities and suburbs where folks will live for 10 yrs. and hardly know their neighbors. Up here, we all wave at each other as we pass on the road, somehow, someway we have this strange connection like a large extended family, even though we don't hang out with each other all that often.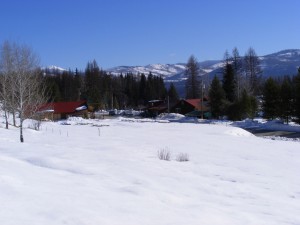 Many folks have found us through word of mouth. Folks talk, especially folks who burn wood to heat their homes and business. They have an independent mindset and are not afraid of hard work, they generally enjoy it, they get a satisfaction out of going out and harvesting their own firewood and hauling it home and splitting and stacking it. They are not the lazy types that want something for nothing, quite contrary, they are the types that will go out of their way to help another person in need. They will share their knowledge to help that other person be more independent like they are. There is a strange way about these kinds of folks, they are cut from a different cloth, they think differently, they are the types I can relate well with.
There are sites out there you can find that have info about wood stoves and wood heating, but there was nothing out there that was devoted just to wood burning cook stoves. We started cookstoves.net way back about 10 yrs. ago with the intent of doing something like a cookstove community but never did much besides set up a homepage. As we have now grown to one of the largest providers of cookstoves in North America, if not the world, I decided the time had come to give back something to those who have made Obadiah's Woodstoves a household name in cookstove circles. The timing was right, circumstances presented themselves with a local young fella who is very talented and someday will be making movies we will all want to watch. His name is Chris Balboni. Chris is a friend of the family and I want to thank him for making this site possible. He has invested much time, effort and talent into making it a reality. Without him this dream of mine would not have been possible.
Chris is very talented with video, which is his passion. Chris is helping take the 300 plus videos I made about wood cookstoves and hearth products and making them more palatable so folks will enjoy them. This site will feature those videos along with info that me and others who share my passion will contribute to this site. It will truly be a community and not a place where I will try to sell you a cookstove. This is my gift to you, the world's wood cook stove community as a place where you can do what you do best, help one another be the best you can be, free and self-sufficient as we all should be. This site will be your community, a place where you can share info, post pictures of your stoves, meals you have prepared on your stoves. You can swap stories, or sell your cook stove, free of charge. You can comfort those who are hurting, encourage those who are beginning this journey of independence, share your experiences, your hopes and dreams as well as your hurts and disappointments, your recipes that turned out well and those that did not. Share about your stoves, your families, your homesteads, your plans for a homestead, or your garden in your piece of country in your back yard in Detroit where I am from. Many years ago this was a simple dream and vision of a city kid, living a different reality of crime and vice. Today it is a far different reality. I encourage you to live out your dreams, live much, love much, dream much, give much, pray much and your dreams will become a reality too.
The rules here are simple. Much like the town of Yaak pictured on the home page, we have no police, no mayor, no authority, nor even a traffic light. There is no sales taxes, no crime, no trouble and no one telling you what you can and can't do. There are two bars, two restaurants, a laundromat, shower, a lodge, some cabins, a mercantile, a volunteer fire department and a rod and gun club. We live life simply; we treat others like we want to be treated. Come in peace, leave in peace. Come on into our little town, pull up a chair at the table of our local establishments next to the woodstove and visit with a local Yaakster. If you want to make trouble, you will find it as we walk softly but we all carry a BIG STICK. Around here, if you get out of line you will find yourself stripped naked, smeared with honey and strapped to a tree near a bear den during mating season. Keep it clean, wholesome and fun, enjoy yourself, Wrangler Jane will be keepin' a close eye on ya, all she has to do is give one of us that look and we'll grab ya and the honey and yer outta here, so let's not even go there. I'll be stopping in from time to time whenever I can to share a cup of coffee with ya all and drop my two cents worth.
– Woodstove Woody.

Woody owns and operates Obadiah's Woodstoves and Alternative Energy from his home in the Yaak.