History | Specifications | Photo Gallery | Videos | Kitchen Queen Forum
The Kitchen Queen and Energy Queen cookstoves are some of the best made stoves on the market, manufactured with painstaking effort by members of the Amish community. You might find other pages online that appear to represent Kitchen Queen, but rest assured, the Amish owners of the stove don't have a website or any online presence at all. In fact, just who the folks behind the stove are and where they come from has always been a bit of a mystery to most, due to the private and secluded nature of the Amish lifestyle. However, Obadiah's Woodstoves has been tied to the history of these stoves for over a decade, and here we'd like to shed some light on the past of the amazing Kitchen Queen cookstove and its cousin, the Montana Energy Queen.

History
Freeman Troyer, a member of the Amish community in Northwest Montana, was always interested in the idea of cookstoves. He experimented with building a few prototypes while in Montana, but ultimately moved with his family to Michigan in 1996. After arriving in his new home, Troyer re-dedicated himself to building his own cookstoves and started the Kitchen Queen Stove company, which proved to be an extremely successful venture. Troyer owned and operated the company for many years, but eventually sold the business to another member of the Amish Community.
In 1997 a fellow Amish man, Dennis Bontrager, left the Amish community in Michigan and moved to Libby, Montana, where he decided to use his mechanical skills and start a new venture with his new life. Dennis was an experienced welder, having built stoves for Freeman Troyer, so he began building cookstoves for the Amish communities in the Libby area. Dennis's stove design was based on his Troyer's, with a few minor changes in the door and air intake designs, and he called it the "Montana Energy Queen."
The Montana Energy Queen proved to be incredibly popular and after a few years, Dennis could no longer handle everything himself. Dennis had made many industrious friends in the Kootenai Valley, however, so he sub-contracted Montana Machine and the Mast family (also an Amish family) to help with fabrication of the stoves, and asked Obadiah's Woodstoves & Alternative Energy to handle distribution.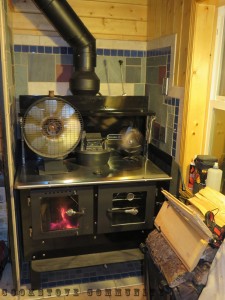 At the time, Obadiah's owner Woody Chain and his family had just moved to Montana from Michigan, initially living within the Libby Amish community where Woody served as a mechanic and electrician. Soon after starting Obadiah's Woodstoves & Alternative Energy in 1999, Woody was distributing the Queen stove for Freeman Troyer. Despite that, when Dennis demonstrated the Energy Queen to Woody, he loved it so much that he decided to sell it right alongside the other model.
Things were going really well until a series of unfortunate events struck: Montana Machine's shop caught fire, and the Mast family tragically lost a member to illness. Overwhelmed by such enormous setbacks, Dennis Bontrager sold his cookstove business to the Mast family and moved north, eventually leaving the Amish lifestyle and settling down in the Eureka area.
The Mast family built the Energy Queen for a few more years, but eventually moved out of the fabrication business and sold the model to Obadiah's Woodstoves. Woody and company aren't manufacturing the Montana Energy Queen at the moment, but have plans to resurrect the stove in the very near future. However, if you're one of the many folks that purchased an Energy Queen years ago, Obadiah's still offers parts and services for them.
Today, Obadiah's Woodstoves & Alternative Energy remains the longest-running, most trusted, and largest distributor of the Kitchen Queen. Woody Chain and company has done more to improve the design of the original by listening to what our clients request and actually doing something about it. We designed and built a heat shield system for the KQ that allows you to reduce the rear clearances from 36″ down to something more reasonable. In a bold move, Woody then installed the KQ 380 in a small, 500 square foot cabin he built for his youngest daughter, to prove you could safely install the stove in one of the tightest installations possible. Best yet, he made videos of how he did everything, and shared them for all to see and learn from.
As a professional firefighter/engineer, Woody Chain is one of the most knowledgeable Hearth dealers on the planet and takes what he does seriously. A quick trip on the World Wide Web will confirm that he has helped more people understand their options and solved their stove issues than any other dealer, because he cares, and so does his team of professionals who listen and respond with helpful answers. When potential KQ customers indicated they would purchase a KQ if it had glass doors, Woody responded with glass doors that took them two years to test and perfect. Unfortunately, when Kitchen Queen copied the idea they did not take the same care to test their product like Woody, and there have been issues with short burn times and the glass not staying clean. These issues are now being worked out, and hopefully KQ can get it right this time.
Woody's concern for his customers and the products he offers his clients is not based on profitability, but rather building trust and honor by listening to their needs and responding accordingly. which has made Obadiah's Woodstoves the most trusted name online in the Hearth industry since 1999. Obadiah's was founded in 1978, and our family business's long track record of service and support speaks for itself.
If you're interested in one of the finest cookstoves on the market designed by honest, hard-working Amish folk, please give us a call or check out our website. We're here to help!
You can also head over to the KQ Cookstove Forum to share you comments about the stove and get help with any questions you might have.
– Obadiah's Woodstoves & Alternative Energy
Specifications
Kitchen Queen

380 Specs

480 Specs

Overall Dimensions
42″ L x 29″ W x 32″ H
51″ L x 32″ W x 32″ H
Cooking Surface
35″ x 19″
43″ x 21″
Warming Shelf
7″ x 37″
9″ x 45″
Back
37″ W x 21″ H
45″ W x 23″ H
Oven Dimensions
14″ W x 11.25″ H x 20″ D
16″ W x 13″ H x 22″ D
Oven capacity
6 Loaves
8 loaves
Firebox Dimensions
18″ W x 16″ H x 19″ D
20″ W x 18″ H x 22″ D
Log Length
18″
21″
Firebox Door
12″ x 14″
14″ x 16″
Approx. Burn Time
10 to 14 hours
12 to 16 hours
Approx. Heating Area
400 to 1,500 sq. ft.
1,500 to 2,400 sq. ft
Output
Up to 75,000 BTU/h
Up to 100,000 BTU/h
Flue Outlet Size
6″ round
7″ round
Water Reservoir Capacity (sold separately)
17 gallons
24 gallons
Weight
750 lbs.
850 lbs.
Testing
UL 1482
UL 1482

Clearances to Combustibles

*for clearances to the flue collar, subtract 6.5″

Side
12″
12″
Rear
12″*
12″*
Corner
12″
12″

Clearances to protected surfaces

Side
6″
6″
Rear
6″
6″
Corner
6″
9″

Chimney Connector

Unprotected Surface
18″
18″
Protected Surface
6″
6″
Looking for the Kitchen Queen Cookstove manual? Download it here!
Photos
Videos