Introducing Obadiah's 2000 Wood Cookstove by Heco

Obadiah's has been working in the cookstove business for a long time, and over the years we've seen all kinds of ideas for cookers- some of them great, some of them not so great. We've fallen in love with the craftsmanship that went into a unit only to watch it be wasted when the manufacturer started cutting corners, reducing the quality to the point of being dangerous. We've also watched as many cookstove makers unfortunately went out of business, despite doing remarkable work, simply due to the small and competitive market. It's a tough business, but after nearly two decades, we've learned a thing or two.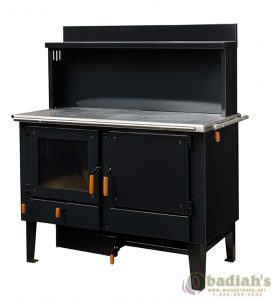 That's why Obadiah's is proud to introduce the Obadiah's 2000 Wood Cookstove. Manufactured by our friends at Heco, the 2000 features all the things we know customers want in a wood cookstove: Easy to use and clean, long burn times, a large cooking space, and a sleek classic design that anyone would be proud to put in the living room or kitchen. The large firebox offers up to 16 hours of burn time, while the sizeable cooktop and oven afford you countless options for cooking. It heats as well as it cooks, a quality that's hard to find in many cookstoves these days.
Based in Lancaster, PA, Heco offers all the hallmarks in the 2000 Wood Cookstove that you've come to expect from Amish manufacturing: Robust stainless steel craftsmanship, a large firebox with secondary combustion system, sensible controls, a full-featured oven (removable tray, porcelain lining, thermometer), and much more. We're especially excited to offer you a stove with a front-facing oven cleanout, making this one of the easiest-to-use cookstoves on the market when it comes to tight clearance installations.
Obadiah's 2000 Wood Cookstove is the result of a lot of experience and hard work in the cookstove industry, and we're excited to bring it to you on behalf of the excellent craftsmen at Heco. We love this stove, and we know you will too.
The 2000 Wood Cookstove can be purchased here.