The Hearthstone Deva 100 Wood Cookstove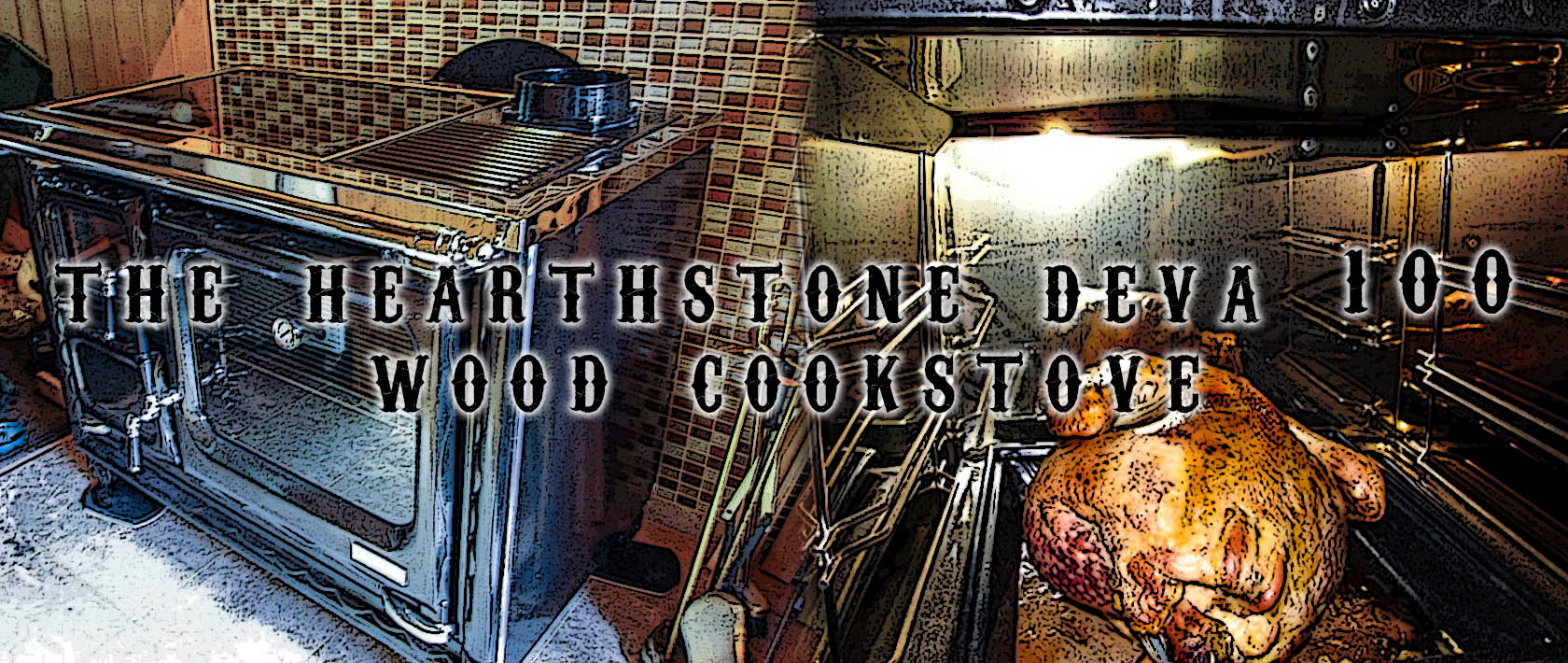 Introduction | Specifications | Photo Gallery |
Introduction
The Hearthstone Deva 100 Wood Cookstove is a nice mid-sized cookstove that hides a real workhorse.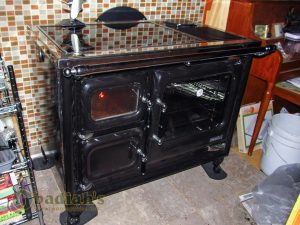 For cooking and baking it has a fully usable cooktop across the entire top with an easy to clean and modern vitro-ceramic glass cooktop that gives you cooking zones from hot to simmer over either the grilling plate or the top exit plate if using the rear exhaust. The cooktop quickly reaches 700 degrees over the firebox., and a fully stainless steel oven that one can nearly lose a 14lb turkey inside of it viewable through a window the size of a 19-inch television.
Easy controls make this a stove that anybody can run having only one draught control and a bypass that can be used when the stove is cold to prevent back-puffing and maximize the draw. For cleaning purposes there isn't a cookstove available that has easier or more complete access as both the top and grilling plate simply lift off the top.
From a heating standpoint it produces almost 2 1/2 times the heat of the Esse Ironheart coming in at 46,000 BTUs off its 1 1/2 cubic foot glass fronted firebox and boasting cast iron elements that retain heat and gradually release it long after the fire goes out eliminating the need to reload so often and makes relighting a snap.
Despite the surprising heat output this cookstove has an insulated back and only requires 4 inches of side clearance due to its insulated sides that prevent build-up of dangerous creosote and ash collection in the down-draught channel. Built in Spain this is a cookstove that would be at home in both a country kitchen and a modern glossy architectural showplace.
Hearthstone Deva 100 Wood Cookstove Specifications
| Specifications | Deva 100 |
| --- | --- |
| Fuel | Wood |
| Stove Dimensions | 40″ W x 23 3/4″D x 33 3/4″H |
| Oven Dimensions | 17-1/4″W x 16-1/2″D x 15″H |
| Firebox Dimensions | 11-3/8″W x 17-1/4″D x 14-1/2″H |
| Flue Size | 6″ |
| Heat Output | Up 46,000 BTU/hr |
| Heating Capacity | Up to 1,500 sq. ft. |
| Weight | 484 lbs |
| Maximum Log Length | 17″ |
| Fuel Door Opening | 11-1/2″ x 11-1/4″ |
| EPA Rating | EPA Exempt |
| Hearth Pad Minimum Size | 56″ W x 39-3/4″ D |
Stove Dimensions
Clearance To Combustibles
Photos
Photos graciously provided by AKBear
Additional Resources
Purchase the Hearthstone Deva 100 Wood Cookstove at Obadiah's Woodstoves
Hearthstone cookstoves and more can be found at Obadiah's Woodstoves and Alternative Energy!