Ranges and Hoods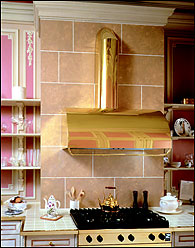 T
he golden age of wood- and coal-burning stoves gave rise to not only colorful expressions, but a novel feature that changed the way people cooked and kitchens looked. In the late 19th century, concern for better health led to research in domestic science, which in turn made sweeping improvements in America's kitchens. Experts advised that a properly ventilated cook space was essential, and the range hood became an integral element of kitchen design.
Two of the earliest critics, Catherine E. Beecher and Harriet Beecher Stowe, had breakthrough ideas about keeping kitchen air fresh. In American Woman's Home (1869) they recommended that kitchens be located on the first floor and include an area with a separate stove room. "Readers should install glazed sliding doors between the two rooms to allow for light as well as to serve to shut out heat and smells from the kitchen," they advised. Doors and windows were fine, but by the turn of the 20th century, the real innovation in kitchen ventilation was the hood.
In 1901 Arts & Crafts guru Gustav Stickley wrote in his magazine The Craftsman that kitchens should be centers for hospitality and good cheer, and that the well-ventilated kitchen should be one large room. He suggested, "The hooded range should be devised that all odors of cooking be carried off and the arrangement and ventilation should be such that this is one of the best aired and sunniest of all rooms in the house."
Before electric motors were widely available to power active systems, most ventilation systems were passive, and range hoods had to operate like chimneys and flues. Once cooking commenced, the cook opened a round metal door in the wall under the hood and latched it to one side so that convection would take the rising hot air through pipes and let it escape through the exterior wall.
These early hoods were often massive canopies made of thick plaster (over lath and 2 x 4s) or metal-usually cast iron or occasionally copper or brass. Because of their often dominating size, kitchen range hoods needed to be suspended by heavy chains mounted in ceiling beams. These early models came in a variety of shapes-barrel, cone, or pyramid-to catch and dispel hot air from the room. Cast-iron hoods would be painted to match the kitchen wall color or black to match the range. Occasionally the hood's interior would be decorated with glazed white tiles.
With the introduction of gas stoves in the late 1890s, the problems of smoke and heat were reduced somewhat, but cooking odors were still an issue. When electricity became more common in the 1920s, passive hoods were gradually replaced by fan-assisted ventilation that could draw more smoke up and away from the kitchen quarters.
Today, there are a few companies that make hoods appropriate for period kitchens-and with modern technology they easily remove and filter out fumes. The type of hood you choose will depend on the age and style of your kitchen. If you are fortunate enough to come across an old kitchen with its original range hood intact, you can retrofit it with a fan. In fact, most building codes and manufacturers require proper kitchen ventilation. Your cooking equipment size and heat output dictates the requirements of your vent fan or blower. The Home Ventilating Institute recommends calculating the square footage of your kitchen space and multiplying this number by two. This math will give you the cubic feet per minute (CFM) that your fan or blower should draw. Commercial-grade ranges- popular for many of today's kitchens, contemporary and period-inspired alike-require a higher CFM as well as a remote ventilator. Abbaka, a company that makes custom range hoods, recommends that the hood's bottom opening should completely cover the cooking surface and overlap by 3½, adding 6½ to the length of your cook top.
By Nancy E. Berry
Courtesy of Old House Journal, 2001.
Obadiah's offers custom made range hoods for cookstoves! With the help of a local fabricator, we're proud to offer these beautiful additions to any home or kitchen area. Check out the gallery below to see the kind of work we can offer you: