Black Beans in Curry Broth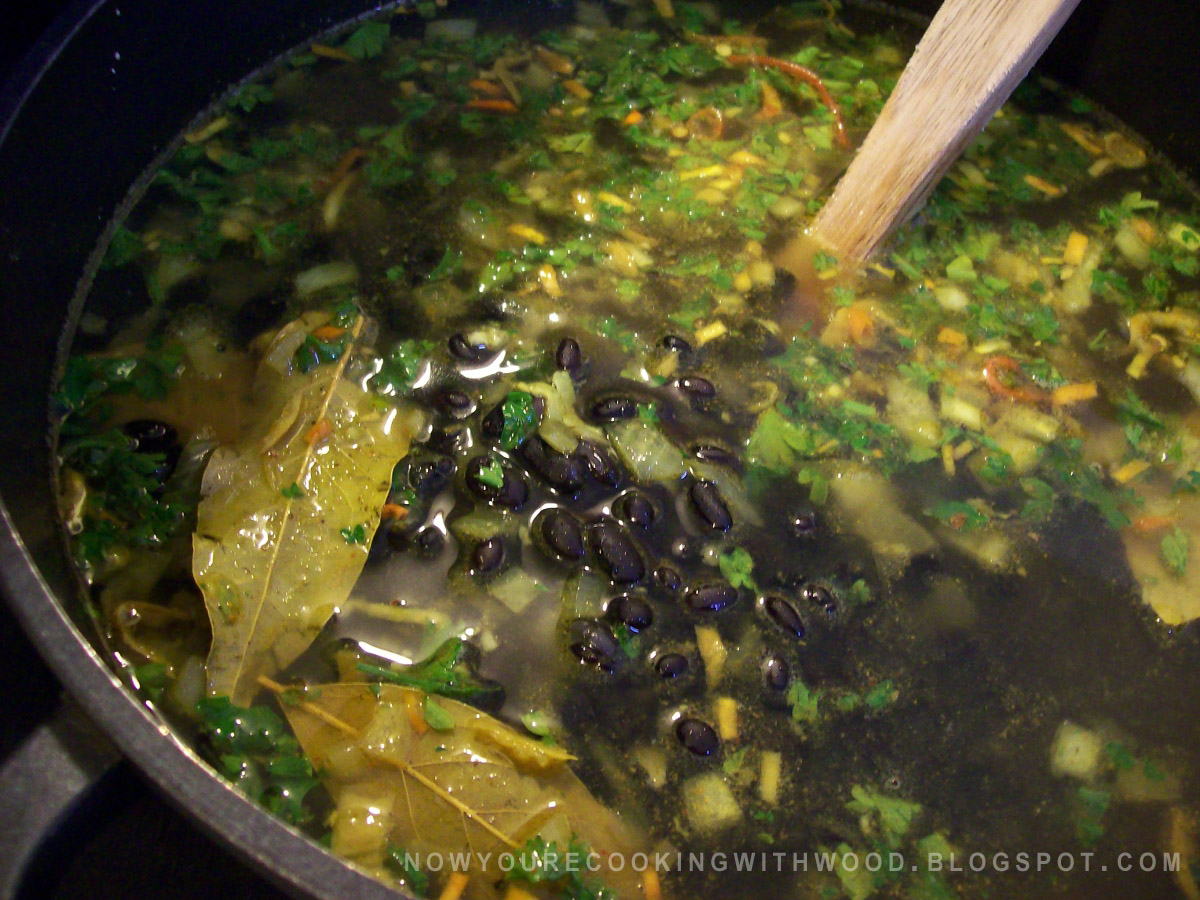 W
hen I was making a pot of beans last week, I tasted the pot liquor about halfway through, and it was out of this world. Tangy, garlicy, and rich. But by the time we sat down to eat a few hours later, the flavor had waned considerably. A few dollops of yogurt brought it back to life, but I pined for the beans that were.
Tonight when I made a pot of beans, I tasted the pot liquor about halfway through, and was horrified. Overwhelming cardamom flavor with acrid overtones. I added some salt and some chicken bullion paste (for competition), and hoped it would be edible. But by the time we sat down to eat a few hours later, that pot liquor had become heaven on earth.
My "take-away" from this… Flavors are going to mellow considerably over a 6-8 hour cooking spell. Maybe the seasoning approach from the first pot of beans would be a better match for a soup or a sauce that's going to spend less time on the stove. But if you're looking for bean heaven on earth, you might just have to go through a little hell to get there.
The "Recipe"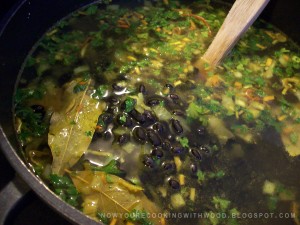 The inspiration for the seasoning in this pot of beans came from a recipe for Authentic Cuban Black Beans, by Gregory on the Chow site — with some additional spices to give it a curry-like twist.
All measurements are approximate. Substitute freely…


3 cups dried black beans
1/4 cup olive oil
1 onion, chopped
4 cloves garlic, smashed
1/4 cup chopped parsley
4 bay leaves
1 tsp. ground cumin
1 tsp. turmeric
1/4 tsp. ground cardamom
2 tsp. salt
1 tsp. freshly ground black pepper
1 T. dried jalapenos
About 10 shakes of Cholula hot sauce (1 tsp.?)
Water
2 T. "Better than Bullion" chicken stock base
Juice of 1 lemon
An ample supply of plain yogurt
Sort the beans and soak overnight in cold water, or 'fast soak' by bringing to a boil then soaking 1 hour.
In the morning, saute the onion in olive oil in a large heavy pot. While the onion is sauteing, prepare and add the garlic, parsley, and bay leaves. Stir in the cumin, turmeric, cardamom, salt, pepper, jalapenos, and Cholula. Add the beans, and hot water to cover them plus 1 inch. Stir in the chicken stock paste. Put a lid on the pot and bring it to a boil, then move it to a warm part of the stove for a slow, steady, all-day simmer. You can eat in 6-8 hours. Check the liquid level occasionally; you'll want to have broth to spare, so make sure it always covers the beans and them some.
When ready to eat, stir the juice of one lemon into the pot. Serve in soup bowls, with dollops of plain yogurt stirred into the broth to taste.
– Recipe by Now You're Cooking With Wood.