Five Pizzas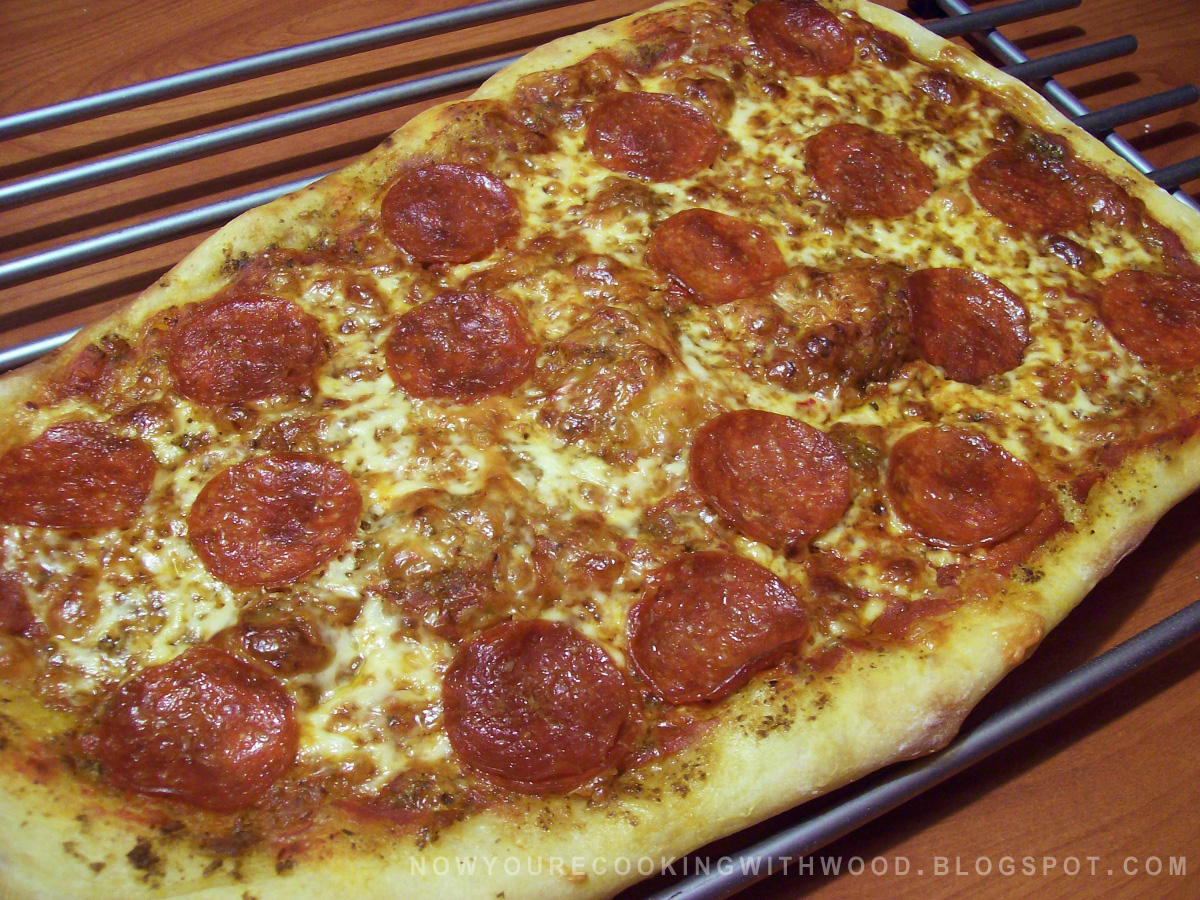 F
irst of all, let me say that five pizzas is too many. But tonight we are enjoying the leftovers of the last and best one, with no work at all, so maybe I shouldn't complain.
Pesto, tomato sauce, pepper jack, pepperoni, and parmesan on a bubbling crust.
Dough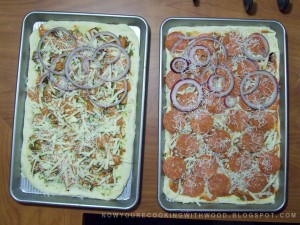 Five is the recommended batch size in Ken Forkish's book, Flour Water Salt Yeast. Well, the guy runs a bakery — probably defines "small quantity" a little differently than I do.
Used Forkish's Overnight Straight Pizza Dough. This is an interesting recipe, using a minuscule amount of yeast – a scant 1/4 teaspoon for over 7 cups of flour. The theory is, the long, slow fermentation time develops subtle flavors in the dough… "Less yeast, more time". It's the antithesis of rapid rise yeast.
I'm not sure I can detect subtle differences in the flavor of the crust after it's laden with garlic, olive oil, tomato, pungent cheeses, and spicy meats; but the dough was nice to handle, and I like the low-key overnight technique. Eliminates a lot of running around panicking because everything's coming to a head at once.
Toppings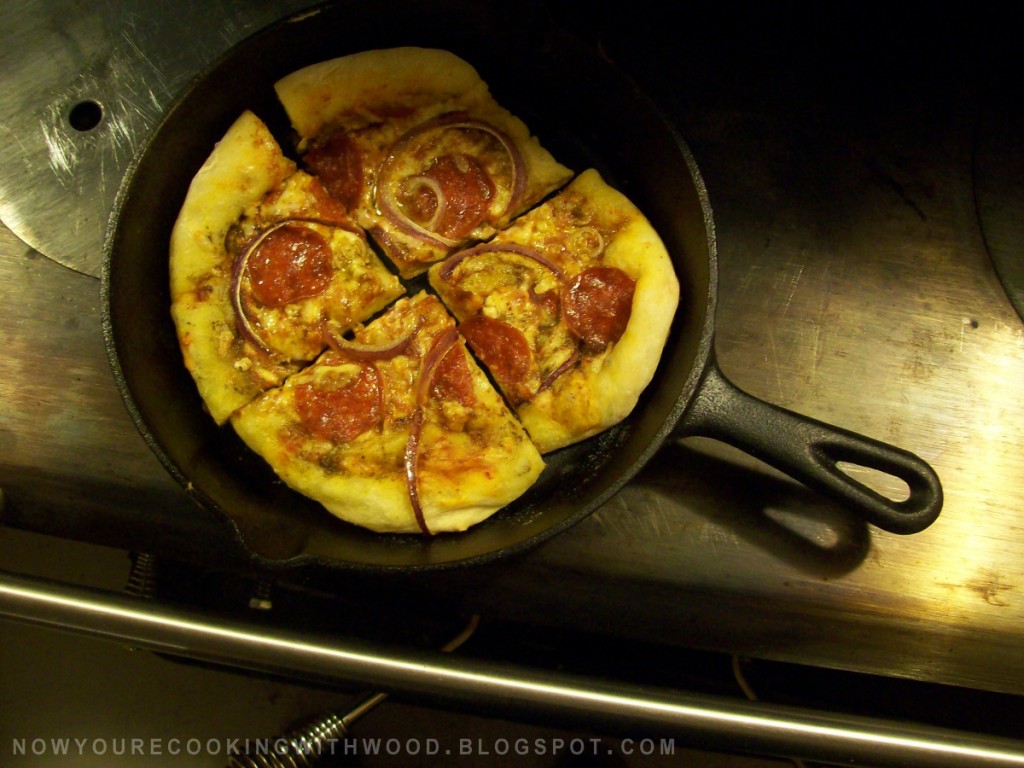 Three of the pizzas were made with pesto, tomato sauce, cheese, and pepperoni. A fourth was similar but used vodka sauce instead of plain tomato sauce, and had leftover barbequed rib meat, soaked in Frank's Buffalo Hot Sauce, under the cheese (to prevent drying out).
Basic method: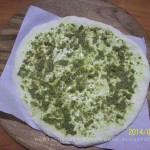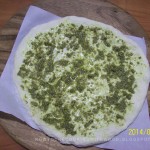 1) Smear pesto on the dough. If it's difficult to spread, squirt on a little olive oil.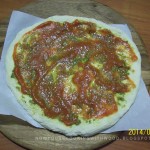 2) Spoon on some humble Hunt's "Garlic and Herb" style tomato sauce. About $1 a can, and better than the $3 stuff. Spread it around.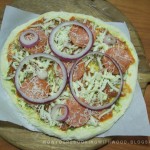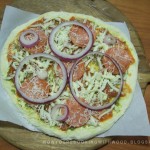 3) Add a little shredded mozarella or pepper jack, pepperoni, and fresh grated parmesan cheese. Garnish with some thin sliced fresh onions.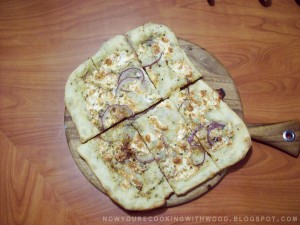 One pizza was totally different… Olive oil with 3 smashed garlic cloves, salt, pepper, paremesan cheese, onions, and a few slices of fresh mozzarella that had been soaking for an hour in olive oil, basil, and garlic. This one was cooked on a preheated iron platter, and the crust was crunchy-chewy.
Fire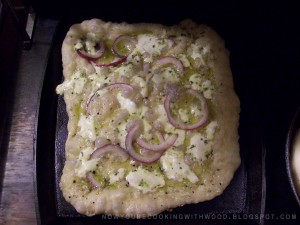 If we could only start working with the fire the way we work with the dough, it would be perfect.
It seems that when we try for a good hot fire, such as is needed for pizza or waffles, we do end up with one — usually around the time we are done cooking. When we start leaving it alone is when it gets good.
That accounts for the success of the last pizza – the fire was finally hot enough.
We need to get those last logs on the fire in plenty of time for them to be raging when the pizza goes in. No doubt it doesn't help that we have only green wood (first year with the woodstove – next year with dry wood, it might work differently). And if it ain't raging, we just might want to wait.
Workarounds
Fortunately we found a couple of tricks for dealing with the anemic oven temperature, and both have interesting side effects that we might actually want to use on purpose some time.
1. Griddle Before
We built two pizzas in preheated cast iron griddles on the cooktop while waiting for the others to come out of the oven. This made the crust start bubbling and rising before going in, and made for a thick, crunchy, and chewy bottom crust.
2. Griddle After
The first two pizzas were underdone and floppy, so we smacked them down on the cooktop to crisp them up after coming out of the oven. This made for a thin, crunchy, delicate crisping on the bottom of the crust that was delightful.
– Recipe by Now You're Cooking With Wood.