EPA Exempt Stoves and Wood Heating Appliances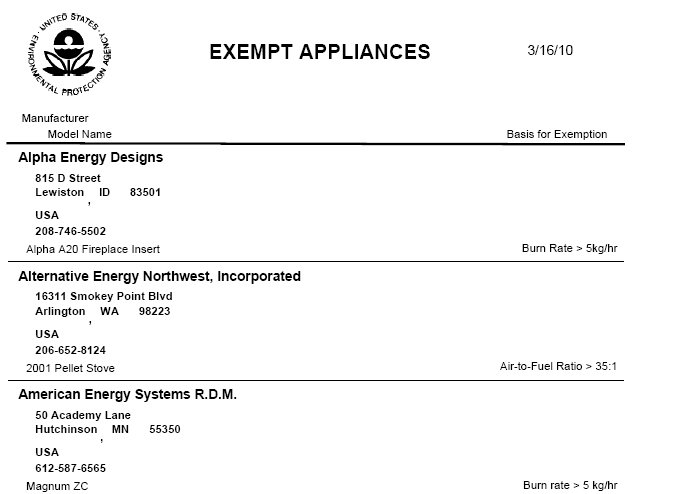 T
he Environmental Protection Agency (EPA) in the United States is responsible for regulating emissions from wood heating appliances as part of the Clean Air Act. Most cookstoves are intended to be for cooking first and foremost and because of that, the EPA doesn't consider them subject to their regulations. EPA exempt stoves are any stove meeting the definition of "cookstove" under the New Source Performance Standards. The EPA defines a cookstove as the following:
"Cook stove means a wood-fired appliance that is designed, marketed and warranted primarily for cooking food and that has the following characteristics:
(1) An oven, with volume of 0.028 cubic meters (1 cubic foot) or greater, and an
oven rack
(2) A device for measuring oven temperatures
(3) A flame path that is routed around the oven
(4) An ash pan
(5) An ash clean-out door below the oven
(6) The absence of a fan or heat channels to dissipate heat from the appliance
(7) A cooking surface with an area measured in square inches or square feet that is at least 1.5 times greater than the volume of firebox measured in cubic inches or cubic
feet. Example: A cook stove with a firebox of 2 cubic feet must have a cooking surface of at least 3 square feet
(8) A portion of at least four sides of the oven (which may include the bottom
and/or top) is exposed to the flame path during the heating cycle of the oven. A flue gas bypass may exist for temperature control."
~Subpart AAA — Standards of Performance for New Residential Wood Heaters, § 60.531.
However, it is important to understand the classification and exemption status of whatever stove you own because, let's face it, nobody wants a visit from the government. The file below contains a list of all wood heating appliances that qualify as EPA exempt stoves under Subpart AAA of the Standards of Performance for New Residential Wood Heaters (40 CFR Part 60).
Right click the PDF file below and select "Save As…" to download the list.
EPA Exempt Wood Heating Appliances