Introducing EPA Certified Cookstoves from J.A. Roby!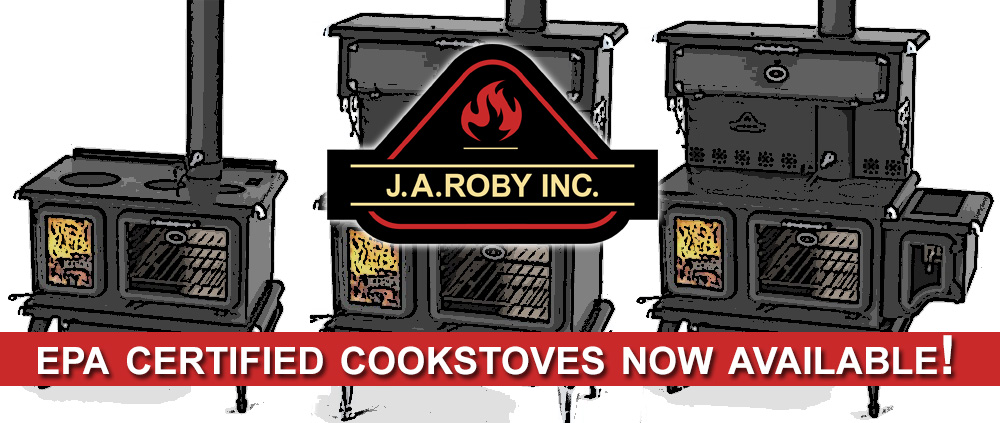 When it comes to cookstoves and EPA regulations, there is no shortage of confusion. While the latest regulations found in the New Source Performance Standard exempt some cookstoves, others don't meet the technical definition set by the EPA, leading many manufacturers to update older models or build entirely new lines. It's a difficult undertaking, but Obadiah's is proud to announce the first EPA certified cookstoves from our friends at J.A. Roby.

Introducing the Marmiton, the Cook, and the Cicero. All EPA certified cookstoves, all beautifully crafted by J.A. Roby.
These cookstoves have undergone stringent emissions testing, resulting in an incredible 1.9 g/hr emission rate that sits below the EPA's final standard in 2020. Another benefit of EPA certified cookstoves? They qualify for tax credits, which you can learn more about here. Not only are these stoves mobile home approved in the U.S., they also meet Novoclimat requirements, an important energy efficiency standard for many Canadians. With a low clearance to combustibles and a heating area of up to 1800 square feet, it's clear that J.A. Roby has gone out of their way to make an eco-friendly stove, and the results speak for themselves.
Efficiency aside, these are very user-friendly stoves with the classic cookstove layout of a left-side firebox and right-side oven. The glass oven door allows for easy viewing of meals as they cook (which can also be monitored with the built-in thermometer), and the chrome exterior makes these cookstoves a welcome addition even in modern style homes. The Marmiton, Cook, and Cicero can also take logs up to 20″, meaning you will have to reload the firebox less often while relaxing and watching the flames.
Each of J.A. Roby's EPA certified cookstoves appeals to the variety of cookstoves users. Need a water tank? The Cicero has you covered. After a warming oven? Check out the Cook. Just want the simple beauty of low-clearance cookstove? The Marmiton is what you need.
J.A. Roby is also introducing several more lines that are not only EPA certified, but are mobile home approved. The Chief, Cuistot, Elda, Rigel, Antares, and Sirius offer a massive variety of styles capable of suiting the needs of any cookstove user. The Antares features a convenient certified wood storage area below its firebox, while the Rigel has a classic taller design that fits in with any rustic home. The Elda, Cuistot, and Chief have larger, more robust bodies with warming ovens and chromed accents.
Make no mistake: EPA certified cookstoves are the future, and picking up one from J.A. Roby now means you won't have to worry about finding a new stove when the EPA tightens regulations again in 2020. Obadiah's is excited to offer these clean burning stoves to the cookstove community, so check out the links below to claim yours today!